Do you rent an aircraft hangar? Own your own space at Golden Ears Airpark
The Golden Ears Airpark is open!
If you have been looking for an aircraft hangar for sale or rent in Vancouver, consider a new build at a modern facility. Rather than rent an aircraft hangar, or purchase something that requires extensive renovations to meet your standards, reserve and own your own custom-built hangar space.
Our project provides the only opportunity in BC's Lower Mainland to order a custom-built hangar in a purpose-built general aviation community. We are located at Pitt Meadows Regional Airport YPK, which is currently undergoing a major, multi-year revitalization project that includes a new control tower, terminal building and multiple commercial aviation business spaces designed and built to support commercial and general aviation.
Pitt Meadows is the ideal location for what will be the premier general aviation hangar development in British Columbia's Lower Mainland.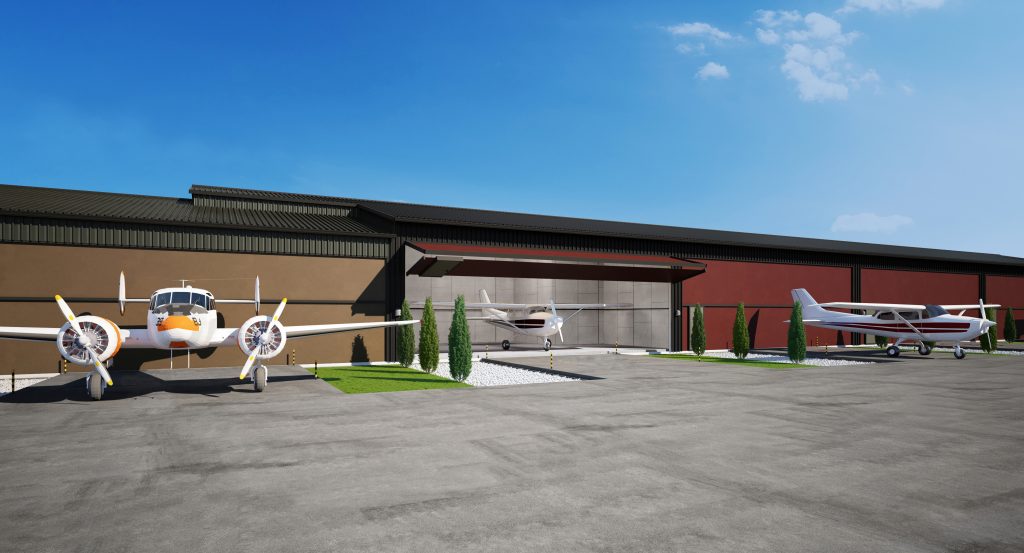 A MODERN, UPSCALE ENVIRONMENT
Golden Ears Airpark is an elegant place to start your aviation adventure. Clients enter the park through a 12 ft. wide custom, side-by-side entry/exit gate, lit by accent lighting at the main entry gate and driveway, as well as roof level luminescent building identification corner signs for way finding. The park features 25 ft. wide asphalt taxiways joining a 20 ft. wide asphalt driveway to every hangar entrance. Current hangars have a 10×25 ft. gravel parking pad outside each hangar door and the exterior grounds are enhanced by a 10×25 ft. turfed pad, extensive landscaping and greenery throughout.
All hangar main doors have LED down lighting at each full height exterior wall and a convenient and secure entry key pad with fob and/or chip card access system.
CUSTOMIZE YOUR HANGAR TO YOUR HEART'S CONTENT
What do you need your hangar to do for you? Golden Ears Airpark base model hangars typically have 60 amp, 240 volt electrical service, 3-LED ceiling light fixtures and 110 volt wall plugs to each wall. The bifold hangar door includes an automatic opener and a 3 ft. exterior access door. Interior walls can feature full height smooth faced plywood and a smooth finish concrete floor. Each hangar is equipped with water, sewer and we can provide a private finished washroom. Some units feature natural gas. Bring us your list of needs: from base model to luxury, we can help you with customizations that bring your vision to life.